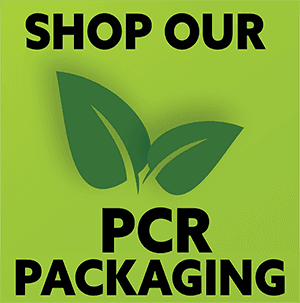 New PCR Packaging Options,
In Stock and Ready to Ship

McKernan Packaging Clearing House has lead the way in the green movement with our Precycle® program. Now, we are continuing to drive awareness of sustainability options with a full line of PCR, or Post Consumer Resin, bottles, jars and closures. McKernan is proud to introduce a line of top quality 100% PET PCR bottles and jars in our King line, 50% PP PCR dispensing caps (turrets and disc-top caps), PP PCR fine mist sprayers, PCR foamer pumps and foamer bottle, and HDPE bottles. All are in stock and ready to ship. There will also be many other PET PCR options available for special order.

When looking at PET PCR bottles and jars in the past, the packaging components did not stack up to the quality and clarity of virgin PET bottles and jars. McKernan sought manufacturers who could create top quality PCR packaging. In order to do this, we found it is best to start with a stream of recyclable material that is significantly free of contaminants, and that the processing facility has been inspected and certified. McKernan's PCR is sourced from facilities that can produce the desired quality and are certified by Global Recycled Standard which is in turn accredited by the SLAB which meets ISO/IEC requirements. Technology has come a long way, and when starting with the high quality PET PCR, these recycled bottles and jars share many similar properties as virgin PET. These PCR packaging components are beautiful, while also being green and environmentally friendly.

Call 800-700-7587 to speak with a sales representative for more information or to order PCR Packaging from McKernan.